Azione performativa / Performance  – 2016.
**For english scroll down**
The Pusher è uno spacciatore di libri in formato elettronico.
Dando appuntamento in un luogo specifico il Pusher rimane in attesa dei suoi clienti ai quali propone il catalogo e consegna, tramite il bluetooth del telefono, i libri scelti.
Si tratta di una biblioteca digitale creata negli ultimi anni in seguito a ricerche universitarie, artistiche e personali. I testi riguardano soggetti di filosofia, politica, narrativa, arte, antropologia, agricoltura scritti in diverse lingue, a seconda della reperibilità nella rete e privilegiando la lingua originale del testo.
L'idea è quella di aiutare la diffusione di libri che dovrebbero essere presenti nelle nostre biblioteche o che possano suscitare la curiosità del lettore e invitarlo alla ricerca e all'approfondimento.
Il libro o documento digitale, permette la gratuità della distribuzione e la facilità di trasporto, benchè io resti appassionatamente attaccata all'oggetto cartaceo.
Non è previsto un catalogo online in quanto si vuole privilegiare il contatto umano, lo scambio diretto e non creare un nuovo sito di distribuzione di ebook.
The Pusher (of my library) è presente con una pagina su facebook per annunciare le date e i luoghi degli appuntamenti oltre a suggerire siti da dove scaricare documenti.
**
The Pusher is a dealer of e-books.
By giving an appointment in a specific place, the Pusher waits for its customers to whom it proposes the catalog and delivers, through the bluetooth of the phone or e-mail, the chosen books.
It is a digital library created in recent years following artistic and personal research. The texts concern subjects of philosophy, politics, narrative, art, anthropology, agriculture written in different languages, depending on the availability in the network and favoring the original language of the text.
The idea is to help spread the books that should be present in our libraries or that can arouse the reader's curiosity and invite them to research and study.
The digital book or document allows free distribution and ease of transport, although The Pusher remains passionately attached to the paper object.
There is no online catalog as it is intended to favor human contact, direct exchange and not create a new ebook distribution site.
The Pusher (of my library) is present with a page on facebook to announce the dates and places of the appointments as well as suggest sites from which to download documents.

---
20 giugno 2016
---
29 maggio 2016 @ Ambasciata dei Diritti Marche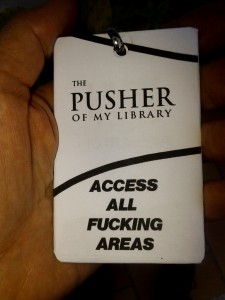 ---
21 maggio 2016 @ Arvultura, Senigallia (An)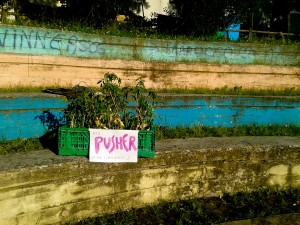 Libri e Pomid'oro. In occasione di Narrazioni 2016 oltre ai libri The Pusher ha regalato piantine di pomodoro nero e rosso proveniente da semi biologici.
---
30 Aprile 2016 @ Ancona Crea
Fotografie di Mattia Vecchietti